Root canal! The words elicit a reaction in just about everybody. At the Smile Gallery, Dr. Bainer takes care to ensure your comfort even during the procedure.
A root canal is a very necessary and beneficial treatment when infection or decay adversely influences the nerve of a tooth. The goal of the root canal treatment is to save the tooth, despite the infection. 
The procedure is done by removing the decay and bacteria and replacing the void in the tooth with a medicated dental filling. When the root canal is complete, you can expect to have full function of your tooth again.
The Smile Gallery Patient Reviews
We use the latest technology and most efficient techniques to ensure your root canal is as painless as possible. We want you to be fearless when it comes to getting dental work done. We aim for this goal because requiring the removal of an infected tooth can lead to a lot of problems down the road, whereas root canals usually provide a permanent solution that can last your entire life. That's why root canals are the preferred way to deal with decaying or infected teeth and why we want to encourage you to seek our professional services early.
If you know how gentle we handle cleanings and other procedures, you will trust our ability to handle a root canal in the same manner. Advanced detection and preventative maintenance can help lessen the likelihood of needing a root canal Do you think it's too late to prevent a root canal? Are you experiencing any of the symptoms we describe below? Call us immediately even if you are just concerned that you are showing symptoms that will require a root canal. That will give us the opportunity to take X-rays and do an exam to identify the cause of the symptom. When we identify the cause of the symptoms, we can recommend the proper procedure.
Symptoms that Indicate You Need a Root Canal
Without the expert input of your dentist, it can be difficult to detect when a root canal is necessary. While the nerve of a decaying tooth may present in the form of pain, an abscess or sensitivity to hot and cold temperature, you might not show signs of any particular symptoms.
So if you think you might need a root canal, it's best to schedule a consultation at the Smile Gallery to discuss everything with Dr. Bainer. The consultation will determine the best course of action for you. For now, here's a little more information on when you might need to get root canal treatment.
The tooth pulp is the living material inside the tooth. If your decay is starting to advance into this part of your tooth, you will probably want to consider having a root canal. The decay will usually result in pain as it begins affecting the nerves in the root. Pain may come at random times or when the area is touched. The tooth may also be tender to the touch.
If you feel an infection or abscess inside your tooth, or at the tip of the root, you may need a root canal to treat the tooth and remove the infection.
Sometimes if one of your teeth has experienced trauma, it may become infected. In this case, you might also need a root canal to promptly address the infection.
Another more obvious sign for the need of a root canal is Pus draining into the mouth. While we hope you don't wait that long to get an exam, there's no guaranteed order of symptoms.
Finally, the tooth or gum may become discolored or have an increased sensitivity to hot or cold food or beverages.
Once you or Dr. Bainer has detected an infection inside the tooth, it is important to take care of it right away. As mentioned, waiting can create further issues that are far more complicated to fix. Even if you are just concerned about some possible symptoms, it's always a good idea to come in for an exam and X-rays. At the very least, the dentist can assuage your concerns and give your teeth a cleaning and other preventative maintenance to remove the need for a root canal. If your Root Canal requires a specialist Dr. Bainer will refer you to an Endodontist
Finally, root canals should always be capped with a crown. This last step is necessary to protect the filling from breaking. It also allows you to regain full function and use of your tooth. Although your tooth may remain sensitive after your root canal treatment, you can expect this to subside in a fee days. However, should anything ever not feel right we are happy to continue working with you until you and your teeth are comfortable throughout the day. After you receive a root canal, good dental home care is as important as ever. When cared for properly you can prevent further infection and greatly extend the life of your root canal.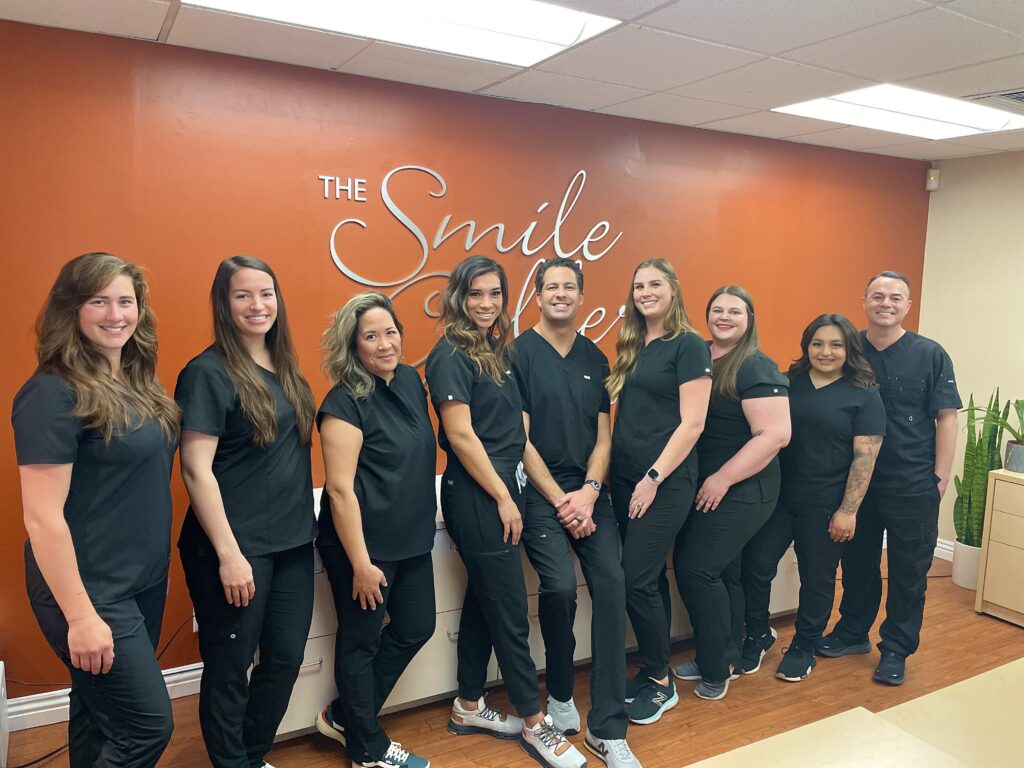 The Smile Gallery practices the Art of Fine Dentistry. We work to ensure our patients have the most relaxed and comfortable experience possible. Our individualized patient attention means you receive the best care possible. Our friendly staff is ready to greet you warmly, set you at ease, and create a level of comfort and customer service rarely seen in the dental industry.
We understand patients who have dental anxiety and have been working for years to provide the safe, comfortable environment that makes you want to see your Escondido dentist a few times a year or anytime your teeth need dental services.
Contact the Smile Gallery
Call Today to Schedule a Dental Exam