When you see Dr. Bainer in Escondido, you can be confident we will do everything possible to ensure your child maintains superior oral health throughout their life, and that they learn proper oral hygiene habits.
Getting Ready for Your Child's First Pediatric Dentist Visit
According to the American Academy of Pediatric Dentistry, AAPD, your children should visit the dentist by their third birthday. Even newly erupted teeth need professional dental care, from a dentist it is also important that you and your child learn proper hygiene habits as early as possible.
At our office, we provide care to children of all ages, and our children's dentist has been specially trained to recognize and address early dental issues. Some of the specific services we offer at our pediatric dentistry office in Escondido are further explained here.
The Smile Gallery Patient Reviews
Proper Brushing and Flossing Techniques
It isn't unusual for children to view brushing and flossing their teeth as a chore, or question why it is so important. However, our team understands it is one of the most important things that can be done at home to prevent severe dental issues down the road.
The fact is, there is much more to brushing and flossing than you may think. Our pediatric dentist will take the time to teach your child the proper technique for both brushing and flossing their teeth and help them understand why it is so important to do this every day.
Regular Checkups with Our Pediatric Dentist
In addition to brushing and flossing at home, it is also essential for your child to visit our Escondido pediatric dentistry office at least twice a year. Our dentists will take oral hygiene a step further, by removing tartar from teeth, which cannot be removed by brushing alone, and provide fluoride treatments and dental sealants, as needed. We will also be on the lookout for any early signs of cavities during these regular checkups. The absolute best way to ensure your child's dental needs are met is by visiting our office every six months for a routine checkup.
Restorative Care Services
We understand that problems occur. That's why Dr. Bainer also provides restorative care. This is when we assess, diagnose, treat and rehabilitate any damaged teeth your child may have. At our office, we understand that even with diligent dental care, both children and adolescents may develop gum problems or even cavities. While we work to teach all our patients proper oral care to prevent these issues, we can also treat the problems as they occur.
If cavities occur, we will treat our young patients with patience and care. We take pride in our staff's ability to put a child at ease and ensure they receive the best treatment possible. We offer several restorative care procedures, including the following:
Tartar removal and debridement
Fillings
Root canals
Crowns
Regardless of what your child's needs may be, Dr. Bainer in Escondido is dedicated to providing the expert care necessary to restore their smile and helping it be as strong and bright as possible.
While dental emergencies can be scary – especially for kids – you shouldn't panic. At our office, we provide emergency dental care for your children. If you are experiencing a dental emergency, you can contact our office, even if it isn't during regular office hours. Some of the most common dental emergencies we see and treat include:
Toothaches: This is extremely common for children, and can be caused by tooth eruption, fractures, trauma and tooth decay.
Knocked out teeth: If your child has one of their teeth knocked out, try to figure out if it is a baby tooth or adult tooth. In some cases, reimplantation won't be necessary for baby teeth; however, emergency dental care will be needed for adult teeth.
Tooth displacement: In some cases, trauma from being hit, playing sports or falling may cause a tooth to be pushed upward or move in the socket. If this happens, dental care should be sought immediately.
Oral lacerations: We can also help with oral lacerations.
We are available at all times to help with dental emergencies your child may have.
It is recommended that children visit the dentist every six months, but in some cases, they will need to come more often, if we notice a developmental issue. These are all problems we can discuss with you at your child's appointment.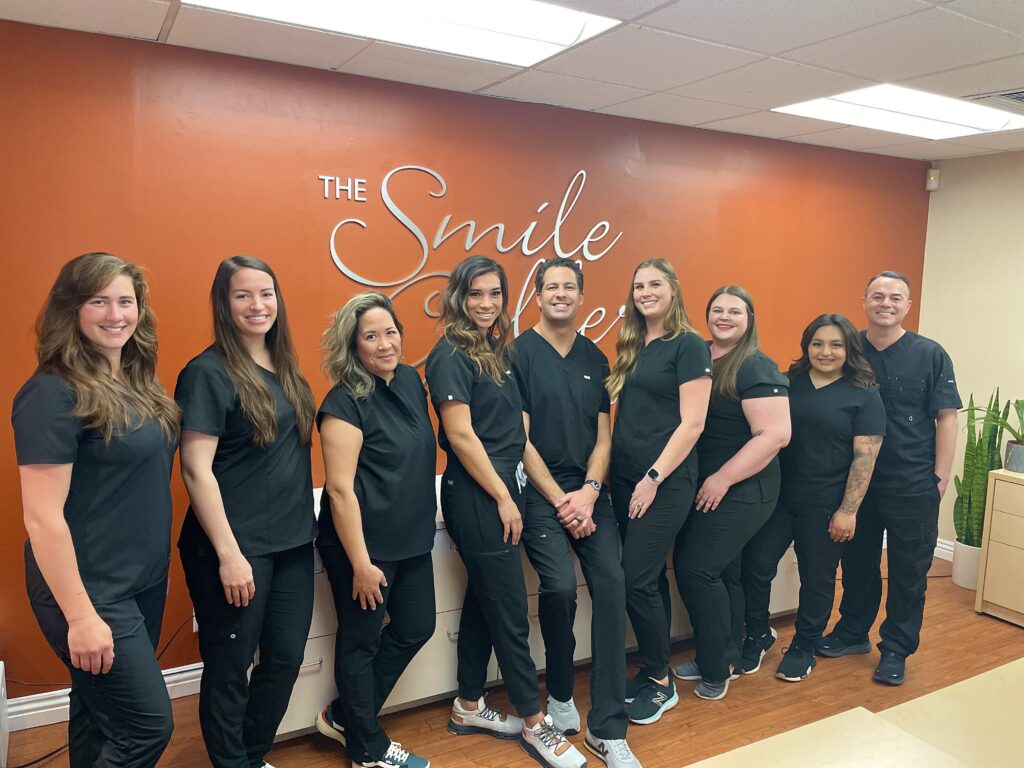 The Smile Gallery practices the Art of Fine Dentistry. We work to ensure our patients have the most relaxed and comfortable experience possible. Our individualized patient attention means you receive the best care possible. Our friendly staff is ready to greet you warmly, set you at ease, and create a level of comfort and customer service rarely seen in the dental industry.
We understand patients who have dental anxiety and have been working for years to provide the safe, comfortable environment that makes you want to see your Escondido dentist a few times a year or anytime your teeth need dental services.
Contact the Smile Gallery
Call Today to Schedule a Dental Exam