Forget about those uncomfortable, metallic wires poking you and making meals a chore. Invisalign will bring you that beautifully-aligned smile you've always wanted, without the hassle and unattractive appearance of braces.
Invisalign are clear plastic orthodontic trays referred to as "aligners." Invisalign aligners are custom-designed to specifically fit your mouth, making them a less-visible alternative to traditional metal braces, not to mention more aesthetically pleasing. Invisalign aligners also help straighten crooked or crowded teeth, adjust overbites and close any gaps between teeth.
For best results, experts recommend wearing the aligners at least 20 hours per day throughout your entire treatment. Once every two weeks, patients switch to a new set of aligners until they reach the desired result as teeth gently shift into place. Result times vary due to the degree of movement from your teeth.
The Smile Gallery Patient Reviews
While traditional metal braces are an effective way to realign the teeth, they are often uncomfortable. That's why Invisalign is often referred to as "invisible braces." This proprietary orthodontic technology allows you to improve your smile more comfortably since there are no bonded metal brackets and wires. Not only are they invisible, they're also comfortable and removable. Aligners can be removed temporarily for eating, brushing, contact sports and dental cleanings.
Invisalign treatment has been clinically proven to be effective for a wide range of cosmetic dentistry cases, from mild to complex. When you start treatment with these invisible braces, you receive several sets of custom-fit aligners. Each set of aligners is worn for only two weeks and then you may switch your aligners with the next set to continue straightening your teeth. It is especially useful for professionals, brides, actors/actresses and athletes. Over time, you will notice changes in the alignment of your teeth and flash a radiant smile!
Why Should I Choose Invisalign Over Traditional Braces?
Effectively treats crowding, spacing, overbites, underbites and crossbites
Straightens crooked teeth
Allows you to comfortably eat your favorite foods
Conveniently removable
Allows you to brush and floss your teeth for better periodontal health
The comfortable plastic will not irritate your cheeks/gums
Fewer office visits (every four to six weeks)
For more information to help you decide if Invisalign is the right choice, Click Here.
If you play any contact sports, you don't need to be concerned about potential accidents like you would with traditional braces since there are no sharp brackets in your mouth. If you must wear a protective mouthguard, simply remove your aligners. It's that easy!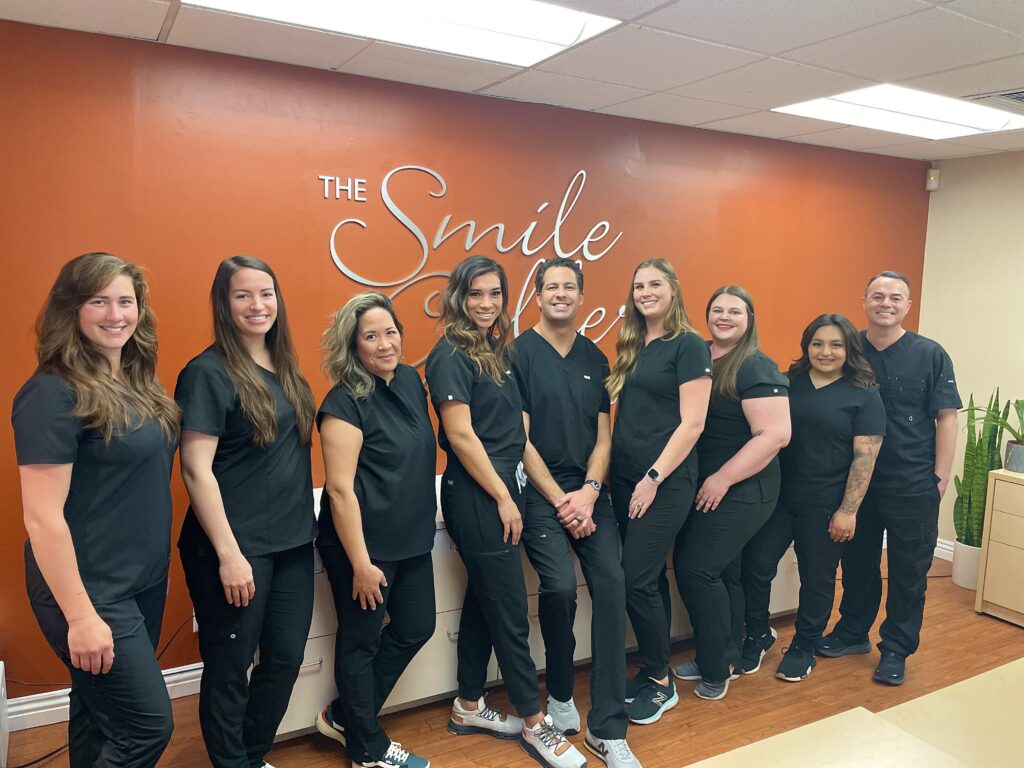 The Smile Gallery practices the Art of Fine Dentistry. We work to ensure our patients have the most relaxed and comfortable experience possible. Our individualized patient attention means you receive the best care possible. Our friendly staff is ready to greet you warmly, set you at ease, and create a level of comfort and customer service rarely seen in the dental industry.
We understand patients who have dental anxiety and have been working for years to provide the safe, comfortable environment that makes you want to see your Escondido dentist a few times a year or anytime your teeth need dental services.
Contact the Smile Gallery
Call Today to Schedule a Dental Exam